Mesa, AZ – The new 6mm 109 Grain Long Range Hybrid Target™ Bullets provide competitive PRS shooters and long range accuracy enthusiasts a level of precision and consistency unmatched by all other bullet manufacturers. Utilizing advanced and proprietary manufacturing processes, Berger's innovative Meplat Reduction Technology™ (MRT™) System applies controlled pressure along the projectile nose, producing a homogeneous and repeatable bullet profile for the industry's most consistent Ballistic Coefficients (BC).
The 6mm 109 Grain LRHT boasts a high BC, jump-tolerant hybrid ogive profile that is Doppler Radar verified with less than 1% BC variation. A high BC is desirable for competitive shooting, however, shot-to-shot consistency is most critical when engaging targets to 600 yards and beyond. The 109's are tailored to cartridges such as 6mm Creedmoor, 6mm BR, Dasher, 6XC, 6BRX, and 6×47 among others. It offers the same stability factor as the industry-leading 105gr Hybrid Target and is a direct replacement for 1:8" twist barrels.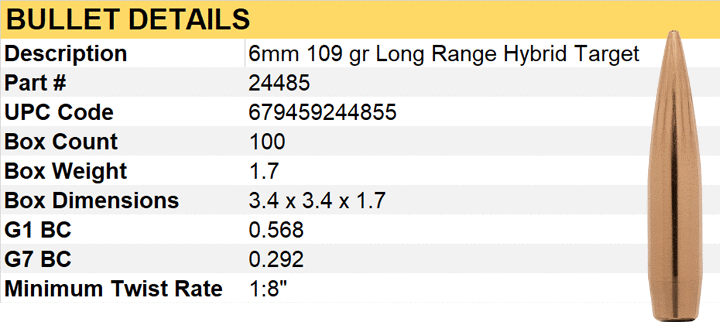 The 6mm 109's offer several advantages," said Bryan Litz, Berger's Chief Ballistician. "Its ultra-sleek profile provides a higher Ballistic Coefficient (BC) resulting in less wind drift at all ranges. Using the proprietary MRT technology also results in a higher and more consistent BC which is important for reducing dispersion at long range."
The Berger 6mm 109 Grain Long Range Hybrid Target™ Bullets are available at authorized Berger Retailers and at Bergerbullets.com/dealer-map. Use our Dealer Locator to find a store near you.