Berger's new 22 caliber 85.5 Grain Long Range Hybrid Target™ Bullets feature an improved center of gravity and ballistic coefficient. Utilizing advanced and proprietary manufacturing processes, Berger's innovative Meplat Reduction Technology™ (MRT™) System applies controlled pressure along the projectile nose, producing a homogeneous and repeatable bullet profile for the industry's most consistent Ballistic Coefficients ("BC"). While a high BC is desirable to competitive shooters, shot-to-shot BC consistency is critical when engaging targets to 1,000 yards and beyond.
Easy to load and shoot with a jump-tolerant hybrid ogive design, the Long Range Hybrid Target™ Bullets are tailored to cartridges such as the .224 Valkyrie, 22-250 Remington, and the 22 Creedmoor among others, and remains supersonic to over 1,000 yards – including .223/5.56 chambered Service Rifles and Target Rifles with 1:7" twist barrels!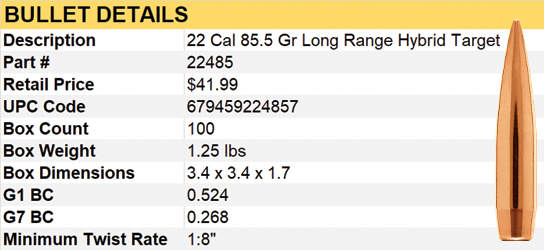 "Berger's new Long Range Hybrid has several advantages over today's large caliber standard," said Bryan Litz, Berger's Chief Ballistician. "Its ultra-sleek profile provides the most consistent ballistic coefficient in the industry, less wind drift for increased precision, and significantly reduced recoil to minimize shooter fatigue. The .22 caliber has finally earned respect within long range shooting disciplines."
The Berger 22 Caliber 85.5 Grain Long Range Hybrid Target™ Bullets are available at authorized Berger Retailers and at Bergerbullets.com/dealer-map. Use our Dealer Locator to find a store near you.